Kaleb De Keyrel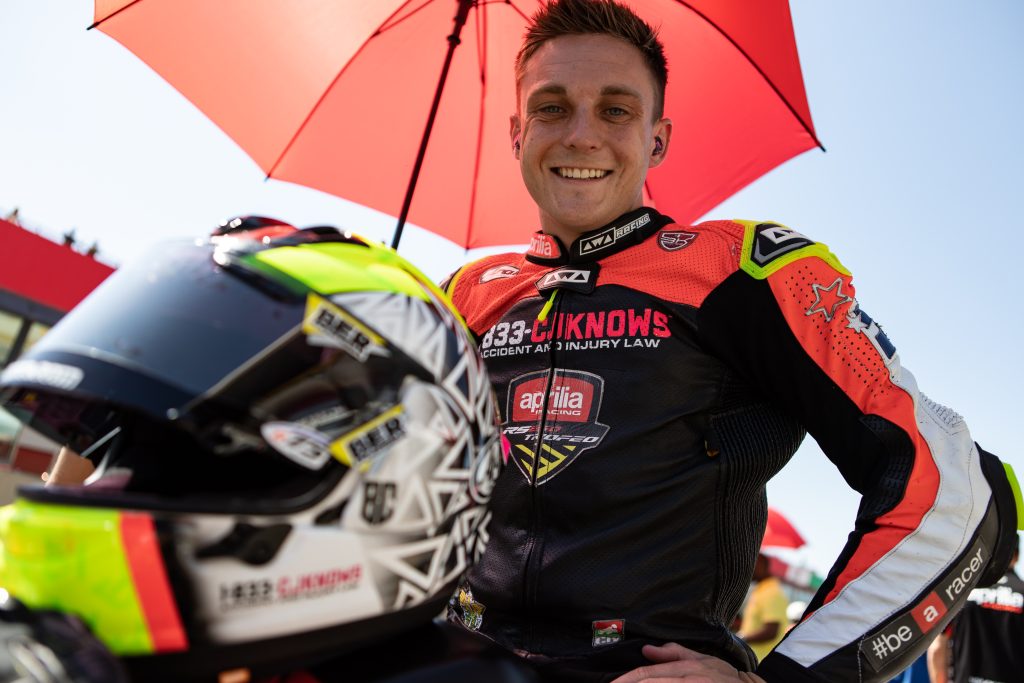 Kaleb is the reigning champ of the MotoAmerica Twins Cup in 2021 with multiple wins and podium appearances. De Keyrel is competing in the MotoAmerica Twins Cup series for 2022 as well as the BK Corse Aprilia RS660 Trofeo Cup in the CIV series in Italy. Kaleb has been in and out of pro road racing since 2013. Kaleb has consistently been pushing his RS 660 to the top being the points leader in 2021 Twins Cup MotoAmerica and is now running the the RS 660 under Veloce Racing.
Past Career
2021
10 wins, 16 podiums, and 6 pole positions in 13 races, 68 points ahead of the runner-up: it was a season to be remembered, dominated by Kaleb De Keyrel on the Aprilia rs 660. September 2021 – The title was already in the bag after the penultimate round of the championship, considering the gap the champion, Kaleb De Keyrel, had built up during the 2021 season of the MotoAmerica championship, Twins Cup class. The combination of Kaleb and the new Italian twin-cylinder Aprilia RS 660 dominated the season, finishing with 234 points: 68 more than the closest rival.
2020
Won three rounds of MotoAmerica Twins Cup and in all scored nine podium finishes en route to finishing the season ranking second. De Keyrel raced onboard the 1-833-CJKNOWS Accident & Injury Law on a Yamaha FZ-07/MT-07. 
2019
Missed most of the season due to injury (broken femur and sacrum) suffered in a club road race, one weekend after his first career win at Laguna Seca. After qualifying 12th on the grid, he worked his way threw the pack to the victory, along side WorldSBK. It was his only finish of the year in the series and placed him 18th in the final Twins Cup standings. Raced a Yamaha FZ-07/MT-07 for Roaring Toys/1-833-CJKNOWS. 
2018
Raced pro motocross. 
2017
Raced only the final round of MotoAmerica Supersport at Barber, but crashed in the first race and scored no points. 
2016
Did not race MotoAmerica. Raced select club events.
2015
Scored six top-10 MotoAmerica Supersport finishes with a best of fifth at COTA. Finished 13th in the series. Raced a De Keyrel Racing Yamaha R6.
2014
Had a breakout season in AMA Pro Supersport earning two podium finishes and ending the season ranked fifth. Raced a Yamaha R6 for his own De Keyrel Racing team.
2013
Raced AMA Pro Supersport East and finished 11th in the championship, scoring three top-10 finishes. Raced a Yamaha R6 backed by CWS, Bleavley-Hayes, World Wide Motorex, Sportbike Track Time.